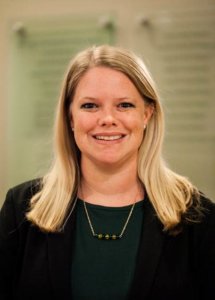 Name: Ashley Parish
Position: Communications and Publications Co-Chair
Twitter: Ashleyparish_PT
 Tell me a little bit about yourself.
I grew up a military brat, but my family settled down when we got to Madison, AL. If you have ever met me, you'd know that I bleed green and gold! I have two degrees from UAB, met my husband there and teach in their DPT program. My husband and I have one fur baby named, Maggie.
Why PT?
Like most people, I was injured playing a sport and fell in love with the profession. During my undergraduate program in respiratory therapy, I really fell in the love with the ICU setting. It lead me to be one of the only Cardiovascular and Pulmonary Clinical Specialists with a pediatric focus in APTA!
What is your most memorable moment as a PT professional.
Having the opportunity to help a patient walk for the first time in four months following a prolonged stay in the ICU. There was not a dry eye in the room.
Tell me what inspires you.
People who have reached the pinnacle of their career, but keep pushing to be better.
Tell me what you do for fun.
I like to travel, especially to UAB football games.
Tell me something only a few people know.
I am extremely good at Candy Crush.
Any advice to the profession.
Never be content with being an average therapist. Always strive to better yourself and the profession.