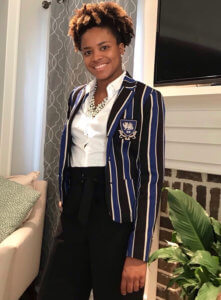 Name: Ivy Rice
Position: District Operations Leader- Central AL for Results Physiotherapy
Communications and Publications Co-chair
Clinic Location: Management of 10 locations in the Montgomery/Birmingham Area
LinkedIn: Ivy (Simpson) Rice
Tell me a little bit about yourself.
"I am originally from Mobile, AL. I currently reside in Birmingham, AL with my daughter Chloe. I graduated from Alabama State University's DPT program in 2011 and have been a PT for 9 years."
Why PT?
"My path to PT was a winding road. I did have an injury when I was 12 that introduced me to field. However, it took me about 10 years to decide on PT. I always knew I wanted to go into medicine (because I liked science, wanted to help people, and dreaded the thought of a desk job), initially wanting to be a medical doctor. However, I soon realized that was not the correct path for me. Like most kids, I graduated high school unsure of what I really wanted to do for the rest of my life. PT had crossed my mind towards the end of my senior year, but I was still unsure.
"So, I entered college as a pre-pharmacy major, for no other reason than the college of my choice was known for their pharmacy program. I made it through my sophomore year and realized pharmacy was also not for me. I then switched my major to pre-dental/biology as it was still in the medical field, I could still help people and it didn't hurt that I'd met an Endodontist along the way that said he only worked three days a week and made over $500,000/yr. I mean, who wouldn't like those odds?
"I followed that path for a while, applying to and interviewing for dental school, only to be wait-listed and having to return home with my parents. I picked up a job back in Mobile as an assistant in a microbiology lab. It was not the most fun I've ever had, but it cemented the fact that I wanted more out of life. I worked there for about a year when I heard about the PT program at AL State. I thought back to my senior year in high school, when I first considered PT, and realized that field had all the requirements I was looking for. So, I applied, got in and here I am!"
Most memorable moment as a PT professional.
"Helping a little girl live without hip pain. She had been suffering from terrible hip pain for months. She had been to all kinds of specialists without any improvement. She was referred to PT as a last hope and arrived at my clinic. We worked to figure out the cause of her pain and she was DC pain free. Since then, she has gone on to run cross country, now in middle school, she even competes against high school students, all without pain. Due to her success, I have also treated her dad twice, her brother, and her mom, all with great success. I'm glad to say, this family has become friends of mine, which is priceless."
Tell me what inspires you.
"Purpose. Working for or towards something that has real meaning."
Tell me what you do for fun.
"The beach is my happy place, but I like to travel to new places and eat great food. However, most recently, I've taken up golf and I'm having a good time with that."
Tell me something only a few people know.
"I attended both my mother's and my father's alma maters. My mother's for undergrad, my father's for PT school."
Advice to the profession.
"Take pride in what you do because your work matters!"