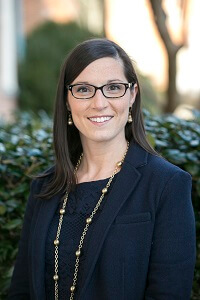 Name: Andrea Bowens, PT, DPT, Board-Certified Clinical Specialist in Orthopaedic Physical Therapy
Position: Assistant Professor at Samford University
Instagram: @abgators
Tell me a little bit about yourself.
"I moved to Birmingham, AL after graduating from The University of Florida. I worked in the outpatient orthopedic and sports clinical setting for 6.5 years prior to moving into my current teaching role in Samford's DPT program. I teach in the musculoskeletal course series and basic interventions courses. As a student, I was involved in the Florida Chapter and loved my experience. It was during this time that I realized how much of an impact the work of the association can have on our daily practice. Now I am excited to continue my involvement in the Alabama Chapter and inspire students and the upcoming generation of PTs and PTAs to get involved in the profession. I currently live in Vestavia Hills, AL with my husband and son, Caleb."
Why PT?
"I was always interested in the medical field but wasn't sure exactly what career was the best fit. Growing up as a competitive gymnast, I was always fascinated with how the human body worked, injuries, and rehabilitation. This curiosity combined with the significant involvement of physical therapists in the recovery process is what led me to PT. Being a motivator, resource, and guide for patients as they recover from injury is what makes this profession so enjoyable!"
Most memorable moment as a PT professional.
"I have many fond memories of working with patients, watching their return to their favorite activities, and building relationships with them and their families. However, one of my most memorable moments as a PT professional was seeing our first class of students graduate from the Samford DPT program. This was such a "proud mom" moment for me watching these individuals walk across the stage and knowing I was able to support them on their journey to accomplish their goals."
Tell me what inspires you.
"Helping people become the best versions of themselves is what inspires me most. This ideal is what motivates me to continue to challenge myself and others personally and professionally."
Tell me what you do for fun.
"I need a good workout as a stress reliever and so I love my time in the classes at a local fitness studio. My husband and I love to travel, try new restaurants in our area, and attend college sporting events. We also stay busy with our energetic 5-year-old boy!"
Tell me something only a few people know.
"Something that few people know is that I was run over by a car when I was 5 years old. I left the house without telling my parents and tried following kids down the street. Unfortunately, a truck did not see me on my tricycle and knocked me off and ran over me."
Advice to the profession.
"Change is uncomfortable and I am guilty of sometimes resisting it. However, with modern advances in technology, modes of care delivery, and a new generation of professionals that challenge the status quo, we have to embrace innovation. This may mean challenging the traditional models of health care delivery.
"Additionally, with ongoing threats to reimbursement, we have to continue to advocate for our profession. The evidence is on our side and we need to do better educating insurance companies, health care providers, and the public about the value of our services. We can't sit idly by and expect others to do it for us. Each of us needs to consider how our actions (or lack thereof) now will impact the profession immediately AND in the future. Let's leave the profession better than when we found it!"